CAP609 General Information Booklet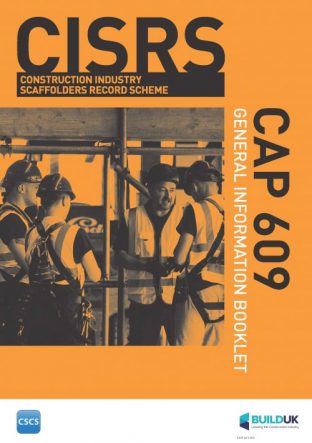 The popular, user-friendly Construction Industry Scaffolders Record Scheme (CISRS) CAP 609 General Information Booklet has been revised, reprinted and is ready for release.
It provides a very useful overview of the CISRS scheme and is a great reference document for those looking to complete CISRS training, scaffolders, employers and the wider Industry.
The 36-page A5 booklet is designed to provide a detailed overview of the CISRS scheme and includes the full range and scope of courses including CISRS COTS, Part 1, Part 2, Advanced, CPD, Manager & Supervisor, Inspection and Scaffolding Awareness.
The CAP 609 booklet is available free of charge, by contacting CISRS at enquiries@cisrs.org.uk. A PDF version of the booklet is available here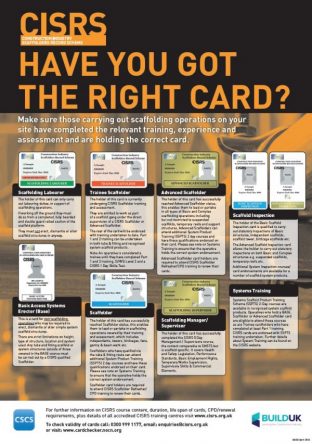 "Have you got the right card?" Poster
CISRS have launched a new informative A2 poster that clearly explains the scope of work that any individual holding a CISRS card can carry out.
Designed to be an ideal aide-memoir to any site the poster provides a simple to follow explanation ensuring that any individual's card can be verified prior to any scaffolding works commencing.
The poster is available free (p&p charges may apply for large quantities) and can be requested directly by contacting CISRS at enquiries@cisrs.org.uk.