« Go back to CISRS Cards
CISRS BASE Card (Basic Access System Erector)
The CISRS BASE course provides accredited training for non-scaffolders who erect, alter and dismantle very basic and routine scaffolding structures using a specific system scaffold product.
It provides operatives with limited skills and knowledge for safe use of a specific system scaffold product in accordance with the manufacturer's instructions within restricted working environments.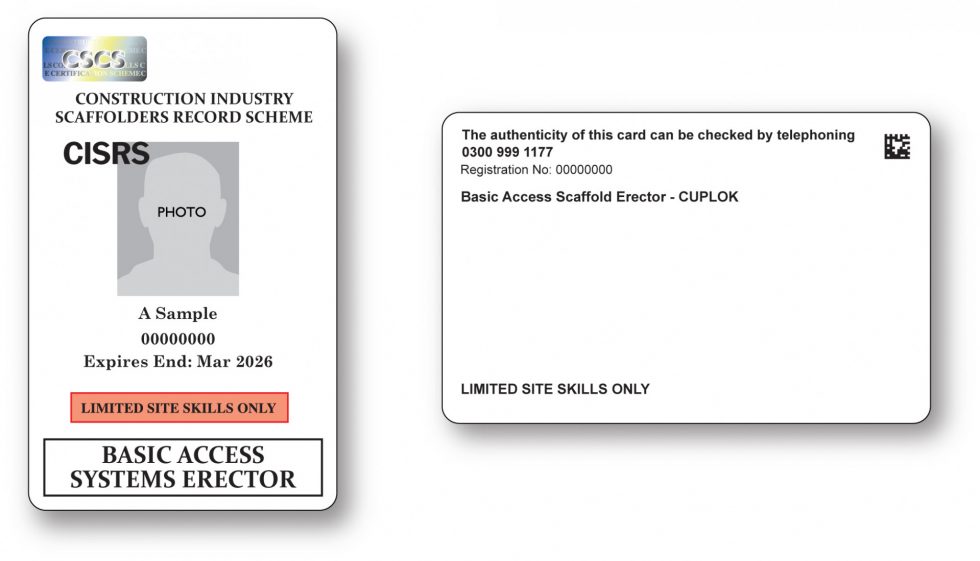 BASE card holders are only permitted to construct simple system scaffold structures with the product used when completing their CISRS BASE Training. These structures must not exceed a maximum height of 6m and must not be in an environment with a general public interface. Any works outside of these parameters should be carried out by a CISRS Scaffolder or CISRS Advanced Scaffolder depending upon the scope of the work.
Training Required For Card:

CITB HS&E Test taken within 2 years (or accepted exemption)
5 Day BASE Course

Renewal Process:

2 Day SSPTS Course
CITB HS&E Test taken within 2 years (or accepted exemption)