Overseas Scaffolder Training Scheme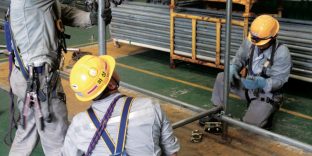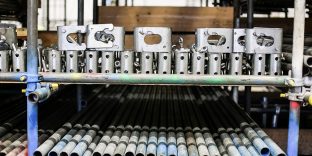 CISRS (Construction Industry Scaffolders Record Scheme) has been the recognised qualification for the scaffolding sector within the UK for over 40 years.
CISRS is now being made available worldwide via the CISRS Overseas Scaffolder Training Scheme (OSTS). Courses range from Level 1 for new entrant to Level 4 for Advanced scaffolders.
CISRS OSTS is based upon the same tried and tested principles as the UK scheme of formal training and assessment, including practical, theoretical and Health and safety sessions coupled with onsite time served experience.
For those holding Supervisory or Management position CISRS OSTS can provide Scaffolding Supervisor and both Basic and Advanced Scaffold Inspection qualifications.
We currently have providers in India, Nepal, Nigeria, Oman, South Korea, UAE and Vietnam with several other locations in the pipeline.
Information relating to CITB International delegates' route into the CISRS OSTS Scheme can be found here
CISRS Overseas Scaffolder Training Scheme Training Centres
Centre
Available CISRS Courses

Abu Dhabi – Safety & Access / Aecor International Training LLC

B 303 – Business Park
ICAD 3,
Musaffah,
Abu Dhabi,
UAE

+971547850282
info.uae@aecorintl.com
www.aecorintl.com 
www.safetyaccess.co.uk

CISRS OSTS Scaffolder Level 1
CISRS OSTS Scaffolder Level 2
CISRS OSTS Scaffolder Level 3
CISRS OSTS CPD
CISRS OSTS Scaffold Inspection – Basic & Advanced
CISRS OSTS Supervisor

China – Simian / Wenma Formwork & Shoring

Shiya Road,
3rd Avenue,
Jinghai Development Area,
Tianjin, China

+0086 13820897176 or +00971 564808337
howardliu@126.com
pkaur@simianinternational.com 
www.simianinternational.com

CISRS OSTS Scaffolder Level 1
CISRS OSTS Scaffolder Level 2
CISRS OSTS Scaffold Inspection – Basic
CISRS OSTS Scaffold Supervisor

India – Safety & Access / AECOR International

Onn Logistics Park, Warehouse No.8,
Kartar Complex, G.T.Road,
Jalandhar Bypass,
Lundhiana, Punjab – 141008

+91-99159-99448, +91-99159-99734
info.uae@aecorintl.com
www.aecorintl.com 
www.safetyaccess.co.uk

CISRS OSTS Scaffolder Level 1
CISRS OSTS Scaffolder Level 2
CISRS OSTS Scaffolder Level 3
CISRS OSTS CPD
CISRS OSTS Scaffold Inspection – Basic & Advanced
CISRS OSTS Supervisor

India – Simian / GSS Training

Kochi Safety Training Centre,
Part of Global Safety Services Group,
Building No.3, 71A, Verapoli,
Eloor, Ernakulam,
Kerala, 683501

+91 484 254 6474
pkaur@simianinternational.com
bookings@gss-training.com
www.simianinternational.com 

CISRS OSTS Scaffolder Level 1
CISRS OSTS Scaffolder Level 2
CISRS OSTS Scaffold Inspection – Basic
CISRS OSTS Supervisor

India – Simian / Toughscaff

110 Manimedu Road,
Keel Managar, Kovur, Thandalam
Porur to Kundrathur Main Road, Chennai 600 122

+91 44 290 049 82
pkaur@simianinternational.com
info@toughscaffltd.com
www.toughscaffltd.com
www.simianinternational.com

CISRS OSTS Scaffolder Level 1
CISRS OSTS Scaffolder Level 2
CISRS OSTS Scaffold Inspection – Basic
CISRS OSTS Supervisor

Malaysia – Safety & Access / PERI Asia Pacific (APAC)

B-10-02, Level 10,
Block B, East Wing, PJ8,
No 23, Jalan Barat, Seksyen 8,
46050 Petaling Jaya,
Selangor, Malaysia

+60 (03) 7969 1088 (ext. 440)
+60 (03) 7060 1008 (ext. 521)
training@perimalaysia.com
www.safetyaccess.co.uk

CISRS OSTS Scaffolder Level 1
CISRS OSTS Scaffolder Level 2
CISRS OSTS Scaffold Inspection – Basic
CISRS OSTS Supervisor

Nepal – Safety & Access / Aecor

Hattigauda, Budhanil Khanta,
Kathmandu, Nepal

+977-1-4379332
+977-1-4379333
safe@safetyaccess.co.uk
info@aecornepal.com
www.safetyaccess.co.uk
www.aecornepal.com

CISRS OSTS Scaffolder Level 1
CISRS OSTS Scaffolder Level 2
CISRS OSTS SSPTS – Cuplok
CISRS OSTS Scaffold Inspection – Basic
CISRS OSTS Scaffold Inspection – Advanced
CISRS OSTS Scaffold Supervisor

Nepal – Simian / Interscaff Safety Training Solution PVT Ltd

Basundhara-Kathmandu
Nepal

+977 1 4364297, 4384921
+997 9851002561
interscaff@motherlandgroupnepal.com
pkaur@simianinternational.com
www.motherlandgroupnepal.com
www.simianinternational.com

CISRS OSTS Scaffolder Level 1
CISRS OSTS Scaffolder Level 2
CISRS OSTS Scaffold Inspection – Basic
CISRS OSTS Scaffold Supervisor
CISRS OSTS CPD

Nigeria – Simian / Falck Prime Atlantic Ltd

9 Younis Bashorun Street, Off Ajose Adeogun,
Victoria Island, Lagos State,
Nigeria

23 414 606 130
pkaur@simianinternational.com
www.simianinternational.com

CISRS OSTS Scaffolder Level 1
CISRS OSTS Scaffolder Level 2
CISRS OSTS Scaffolder Level 3
CISRS OSTS Scaffold Inspection – Basic
CISRS OSTS Scaffold Supervisor

Oman – Safety & Access / EITI

CISRS OSTS Scaffolder Level 1
CISRS OSTS Scaffolder Level 2
CISRS OSTS CPD
CISRS OSTS Scaffold Inspection – Basic & Advanced
CISRS OSTS Scaffold Supervisor

Oman – Simian / National Training Institute (NTI) LLC

Ghala Industrial Area, Facing Muscat Express Way,
NTI Building No 1188, Muscat, Sultanae of Oman

+968 24 228 600 Ext 512
+971 43 695 067
pkaur@simianinternational.com
atif@ntioman.com
www.simianinternational.com

CISRS OSTS Scaffolder Level 1
CISRS OSTS Scaffolder Level 2
CISRS OSTS Scaffold Inspection – Basic
CISRS OSTS Scaffold Supervisor

Oman – Safety & Access / TTI

PO Box 30,  Al Harthy Complex,
Postal Code 118,  Sultanate of Oman

01159 794 523
training@stsoman.com
safe@safetyaccess.co.uk
www.stsoman.com
www.safetyaccess.co.uk

CISRS OSTS Scaffolder Level 1
CISRS OSTS Scaffolder Level 2
CISRS OSTS SSPTS Cuplok
CISRS OSTS Scaffold Inspection – Basic
CISRS OSTS Scaffold Inspection – Advanced
CISRS OSTS Scaffold Supervisor

Qatar – Safety & Access / Aecor International Training WLL

Bu Fesseela Warehousing Park,
VA3-3B,
Street No. 60,
Zone 71,
Umm Salal Ali,
Qatar

+977 50525203, 55452968, 33418246
info.qatar@aecorintl.com
www.aecorintl.com 
www.safetyaccess.co.uk

CISRS OSTS Scaffolder Level 1
CISRS OSTS Scaffolder Level 2
CISRS OSTS Scaffolder Level 3
CISRS OSTS CPD
CISRS OSTS Scaffold Inspection – Basic & Advanced
CISRS OSTS Supervisor
CISRS OSTS Cuplok

Qatar – Simian / Enertech

Villa No. 94
Al Maaded Street No.980
Mamoura
Doha

+974 4401 0888

sales@enertechqatar.com 
pkaur@simianinternational.com
www.enertechqatar.com 
www.simianinternational.com

CISRS OSTS Scaffolder Level 1
CISRS OSTS Scaffolder Level 2
CISRS OSTS SSPTS
CISRS OSTS Scaffold Inspection – Basic & Advanced
CISRS OSTS Supervisor

Qatar – Simian / QISC

PO Box 23651
Street 45
Industrial Area
Doha

+974 4450 1223

CISRS OSTS Scaffolder Level 1
CISRS OSTS Scaffolder Level 2
CISRS OSTS Scaffold Inspection – Basic & Advanced
CISRS OSTS Scaffold Supervisor
CISRS OSTS CPD
CISRS OSTS SSPTS Peri Up

Saudi Arabia – Simian / TAFE Arabia

Technical And Further Education (TAFE LTP)
Industrial, Omar Ibn  Al khattab Street
Dammam  32443  Saudi Arabia

+ 966 13 8099353 ext. 103
+ 966 564050646 (Elmer Abejon ), +966564050648 (Mr. Khaled Al boon)  (Mr. Hussain Herz) +966578081800
train@tafear.com
pkaur@simianinternational.com
www.simianinternational.com

CISRS OSTS Scaffolder Level 1
CISRS OSTS Scaffolder Level 2
CISRS OSTS Scaffold Inspection – Basic
CISRS OSTS Scaffold Supervisor
CISRS OSTS CPD

Trinidad – Safety & Access / RADIAN H.A Ltd

187 Helen Street,
Marabella,
Trinidad

+1 868 658-0293 or +1 868 658-5946
training@rhatt.com
www.rhatt.com 
www.safetyaccess.co.uk

CISRS OSTS Scaffolder Level 1
CISRS OSTS Scaffolder Level 2
CISRS OSTS Scaffold Inspection – Basic
CISRS OSTS Supervisor

Trinidad – Simian / SMTL Training

53 Pacific Avenue
Point Lisas Industrial Estate
Point Lisas
Trinidad

+868 636-2457 or +868 355-7463
trainingcoordinator.scaffmantt@gmail.com
pkaur@simianinternational.com 
http://www.scaffmantt.com/main.php
www.simianinternational.com

CISRS OSTS Scaffolder Level 1
CISRS OSTS Scaffolder Level 2
CISRS OSTS Scaffold Inspection – Basic
CISRS OSTS Scaffold Supervisor
CISRS OSTS SSPTS

United Arab Emirates – Simian

Unit 64, Al Kawakeb Estate
13 Street off 12 Street
Al Quoz Industrial Area 2
Dubai, UAE

(+971) 43387322
pkaur@simianinternational.com
www.simianinternational.com

 

CISRS OSTS Scaffolder Level 1
CISRS OSTS Scaffolder Level 2
CISRS OSTS Scaffolder Level 3
CISRS OSTS SSPTS Cuplok, Layher, Kwikstage
CISRS OSTS Scaffold Inspection – Basic
CISRS OSTS Scaffold Inspection – Advanced
CISRS OSTS Scaffold Supervisor